My Page is Dedicated to Dodge Trucks
I decided to do a Dodge Ram page, because they are the best trucks, compared to Ford, or Chevy, the Dodge Ram has won more prestigous awards then Ford or Chevy. The Ram was the first to offer four doors, a.k.a known as the Quad Cab. It has revolutionized the way trucks are built in America, the strongest, and the toughest, and that's why the "Rules Have Changed...For the Better."
A Few Jokes for the Dodge Fans out there...
Buy a Chevy, You Buy the "best", Drive a Mile, Walk the Rest.....
Chevy Trucks, "Like a Rock", and About that Fast....

Nothing Runs like a Ford.......THANK GOD!

Management Toolbox
Newly Redesigned center armrest/buisness storage console: provides larger & deeper storage.
Overhead Console: dual map/reading lamps, digital compass, & outside tempature display.
Optional electronically tuned CD sound systems: best quality Infinity speakers in six locations.
New Adjustable cup holders: Keep even the biggest beverages upright & and out of sight.
Suite Spots
Behind the seat storage system: includes cab width floor tray,height adjustable bins, and cargo net.
Exclusive integrated height adjustable seat belts: allows for easier rear access than any other vehicle.
The Quad Cab: provides plenty of room, and a view, with 4 doors that open and close without scraping any paint.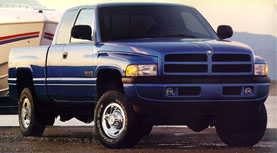 To the Initiated,it's more than a powerful motor. It's more like a religious experience...
The 499-cubic inch engine(8.0 liter Magnum v-10) is the most powerful gasoline engine offered on any pickup; it generates 300 horsepower at 4,000 rpm and 450 lb-ft of torque at 2800 rpm.
High strength, 36,000-psi steel frame.
Every Ram 4x4 features a shift-on-the fly transfer case.
The exhaust system for gasoline-engine equipped Ram is totally stainless steel.
All long wheelbase offers a 35 gallon fuel tank, the largest single tank.
Long 60-inch rear leaf springs allows for smoother ride, loaded or unloaded.
Torque peaks at 440 lbs-ft with manual transmission, the most diesel torque in a light pickup.
5-year or 100,000 mile Limited Warranty.
Cummins direct chamber fuel injection design: provides more efficent combustion than indirect diesels.
Exclusive Dodge Ram 4x4 solid axle, link coil front suspension provides proven durability and ground clearance, for optimum off-road ride and handling.
HERE'S A PIC OF MY DODGE DAKOTA